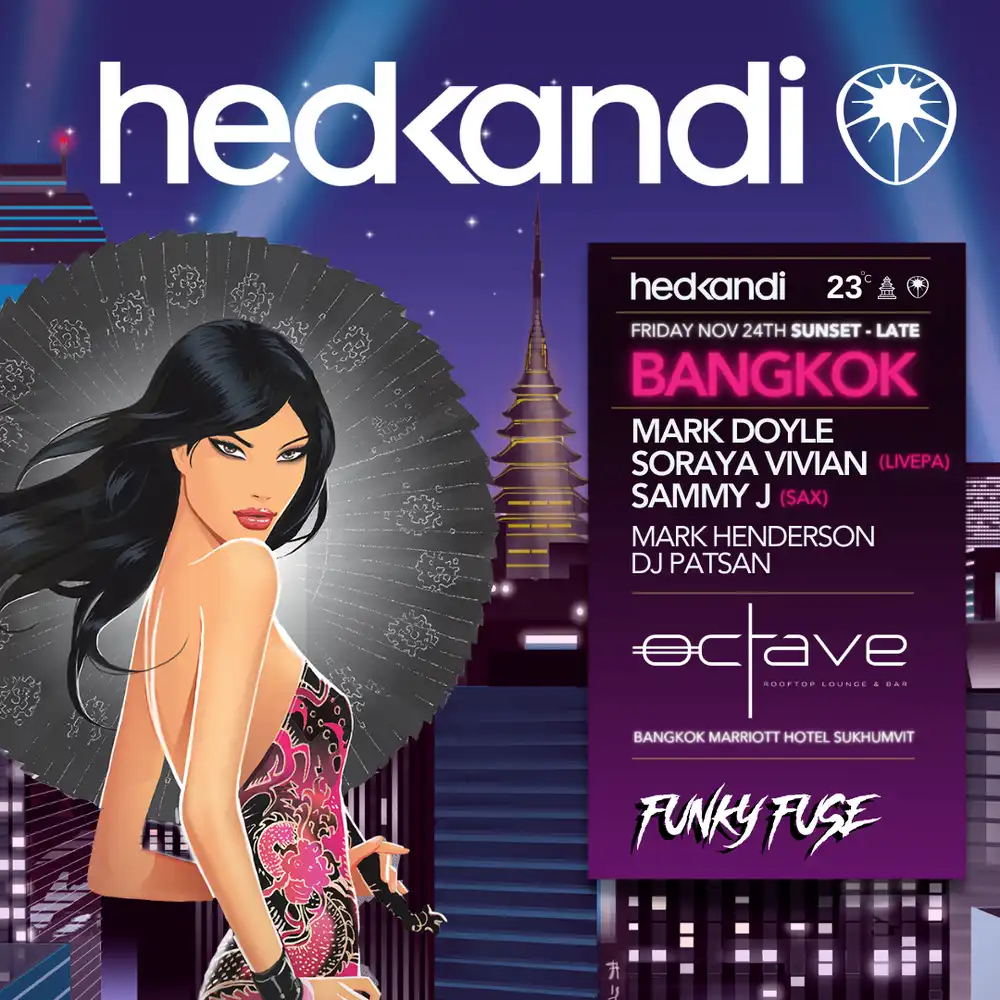 Launched in 1999, Hedkandi dance party has evolved from its humble compilation brand beginnings into a global dance phenomenon. 
With three UK Top 10 Singles, a host of Top 40 hits and over 100 albums to date, Hedkandi is a true dance party powerhouse. Not content with sound-tracking your house parties, Hedkandi branched out with London and Ibiza residencies in 2002. Now they throw hundreds of events every year from Dubai to Dublin and Sydney to Sao Paolo and now back in Thailand after 10 years!  Enjoy music from DJ Patsan, Mark Henderson and last but not least Mark Doyle. Accompanied by live performances from Sammy J (saxophonist) and vocal performances from Soraya Vivian (toured with Tom Jones).  We've got a fantastic surprise for you! A special guest DJ all the way from Shanghai, one of the Hedkandi residents (Asia), will be spinning tunes during the sunset hour starting at 6 p.m. His unique Chilled House style will set the perfect mood for the main event. Be sure to arrive early, catch the stunning sunset, and groove to some awesome tunes!
  Hedkandi has come a long way since its inception in 1999. With its global residencies, international tours, and famed DJs and producers, the dance powerhouse has become a household name in the dance music industry. Its signature sound has captivated millions of fans around the world, and its music has been featured in films, video games, and television shows. The future of Hedkandi looks just as bright, with more residencies, tours, and releases on the horizon.  Whether you're a fan of Hedkandi or a first-time listener, the Hedkandi experience is one you won't soon forget. With its unique blend of house, disco, and funk, Hedkandi's signature sound is sure to keep you dancing all night long. Be sure to catch one of their events soon and experience the Hedkandi phenomenon for yourself!
With three UK Top 10 Singles
Hedkandi is the ultimate destination for all who seek a unique dance experience. Their legendary sound has earned them devoted fans across the globe. With a focus on quality, Hedkandi has crafted a sound that transcends genres and boundaries, allowing everyone to feel at home. From their early days of the classic 'Hed Kandi' sound to their more recent approach of combining house and disco, Hedkandi has been creating the perfect soundtrack for the past two decades and will continue to do so for years to come.
DJ Patsan We Had Disco Release.
Also, DJ Patsan supporting DJ in Thailand will be releasing his Singgle "We Had Disco" song is a perfect combination of the classic sounds of disco and the more modern and upbeat sounds of house music. The up-tempo beat of the song provides an uplifting and funky feeling that will get your feet tapping and your body moving. The song is great for any dance party, as it will get the crowd on their feet and dancing along with the infectious beat. The sounds of the disco and house genres blend together perfectly, creating an upbeat sound that will keep you and your guests entertained all night long. With its upbeat tempo and funky vibes, the We Had Disco song is sure to be a hit at your next gathering. So put on your dancing shoes and get ready to groove to the beat! Perfect for a great Dance Party.
I'm really Excited For High Season In Bangkok
The end of the year is fast approaching and the high season in Thailand is already well underway. For those of us lucky enough to be part of the festivities, there is much to look forward to. One of the most exciting events of this year's high season is the Funky Fuse Events and HED KANDI show on Friday 24th.
This is sure to be an extravagant evening, full of fun, music and dancing. The line-up for the evening includes some of the biggest names in the music industry, such as Diplo, Skrillex and Charli XCX, as well as some of the top DJs from around the world. With such a star-studded lineup, it's no wonder that this event is drawing the attention of international tourists and local partygoers alike.
I'm really looking forward to the show, and have already started organising my playlist for the night. From pumping electro house to the latest hip-hop hits, there's sure to be something for everyone. I'm also looking forward to the special effects and light show that will accompany the performances.
This year's high season in Thailand is sure to be a great one, and I feel lucky to be a part of the excitement. I'm looking forward to the Funky Fuse Events and HED KANDI show on Friday 24th, and can't wait to hear all of the amazing music and see all of the fantastic performances.
MEGATIX_ BUY YOUR TICKETS HERE
https://megatix.in.th/events/2023OctaveHedkandi?fbclid=IwAR2uFe9aGpDZhdLVDyD2e5_anYE6ZN0i_n7LCjFO7_BAD14DCQQ7rUEKwH4